ICOM Aviation Radio Handheld IC-A25CE (#33) Lite - 8.33 & 25 kHz Channel Spacing, COM Channels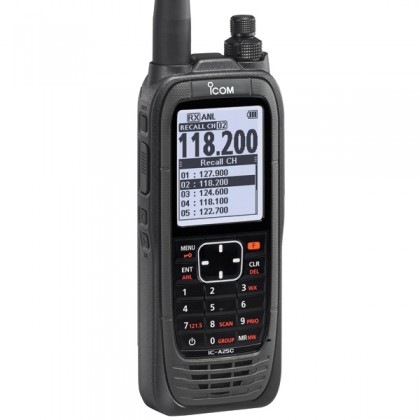 Product information "ICOM Aviation Radio Handheld IC-A25CE (#33) Lite - 8.33 & 25 kHz Channel Spacing, COM Channels"
The next generation of ICOM airband radio convinced with higher transmitting power for better coverage, a bigger display, and other usefull features.
For expanded communication coverage, output power has been increased to approximately 6 W typical (PEP)/ 1.8 W typical (carrier) compared to the IC-A24E (5/1.5 W PEP/carrier). Often used functions are assigned to the keypad and you can directly access a desired function. The enlarged flat sheet keypad offers smooth and swift operation. The 2.3" large, high contrast and high visible LCD displays user-friendly, graphic screens and ensures good readability under direct sunlight. The operating frequency in large characters can be recognized at a glance. In addition, the night mode option enables easy viewing in low light conditions.
The ICOM IC-A25CE (#33) Lite stores the last 10 channels used. You can easily recall those channels by using the directional keys, the channel knob on the 10 keypad. This is convenient for switching between several channels, such as NAV and COM channels. In addition, you can freely edit (replace, delete, change order) the stored recall channels. The supplied BP-288, 2,350 mAh typical intelligent battery pack, provides up to 10.5 hours of operating time. You can check the condition of the battery pack in the battery status screen. It is very useful for optimum charging and battery health maintenance.
Other features of the ICOM IC-A25CE (#33) Lite:
IC-A25CE Lite is conform to EN 300 676
COM:

8.33 and 25 kHz frequency pattern, frequency range 118,000-136,991 MHz, emergency call button for 121,500 MHz
IP57 dust-protection and waterproof construction
BNC antenna
Priority watch
VFO scan, memory channel scan, priority scan
ANL (Auto Noise Limiter) for noise reduction
Side tone function enables you to hear your own voice from an external aviation headset
Internal VOX capability
300 memory channels (in 15 memory groups) with 12 character names
Delivery includes:
ICOM IC-A25CE (#33) Lite, Li-Ion rechargeable battery (BP-288), Fast Charger incl. Power Supply (BC-224 / BC-123SE), Antenna with BNC connection (FA-B02AR), Belt Clip (MB-133, Hand Loop, Operating Manual.