ICOM A25NE VHF AIR BAND NAV / COM / GPS RADIO WITH BLUETOOTH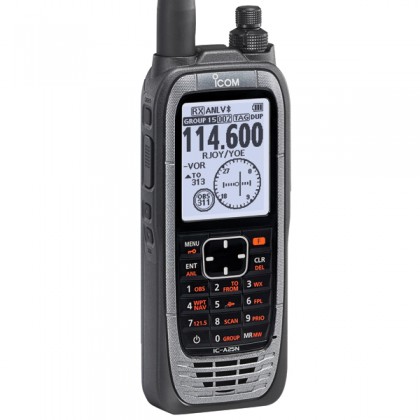 The A25N is a powerful air band handheld with 6 watts of power and an IP57 waterproof rating; weather cannot stop these radios. The handheld includes a large 2350mAh Li-ion battery, providing a long operating time. The easy-to-use interface and large 2.3-inch LCD display combine to provide stress-free programming and in-flight operation. This handheld features built-in Bluetooth®, GPS and VOR navigation.
Output power: 6W typ. (PEP), 1.8W (CW)
Frequencies: TX (COM); 118.00-136.975MHz
RX (COM/NAV) ; 108.00-136.975MHz
RX (Weather) ; 161.650-163.275MHz
Channel spacing: 8.33/25KhZ
Channels: 200 (20CH x 10 banks)
Battery life: 2350mAh Li-ion battery, up to 10.5 hours
Typical operation with Tx:Rx:Stand-by duty ratio = 5:5:90, (Bluetooth OFF, GPS ON)
Version: Communications plus navigation
Large easy to use LCD
The A25's large 2.3-inch LCD provides user-friendly, graphic screens. The day mode allows pilots to view the screen in direct sunlight and the nighat mode makes it easy to read in the dark.

Navigation functions
Built-in GPS and Bluetooth® have redefined navigation in the A25N. Design flight plans with an Android™ or iOS™ device and import them into the A25 with the Bluetooth® feature. While using GPS, the waypoint NAV will guide pilots to their destination. Up to 10 flight plans and 300 waypoints can be stored in the A25. Other navigational features, like VOR indicators, can help keep a pilot's heading precise and alert them if they divert from course. All these functions and more increase safety up in the air.

VOR navigation functions
CDI (Course Deviation Indicator) looks like a real VOR instrument and displays any deviation from your course.
OBS (Omni Bearing Selector) enables you to change course from your original flight plan.
TO-FROM indicator shows the position relationship between your aircraft and the course selected by the OBS.
ABSS (Automatic Bearing Set System) enables you to set the current course as a new course.
Powerful Air Band Portables w/ Built-in GPS & Bluetooth®*
6 Watts (PEP) – Expands COM Coverage
Easy-to-Use Intuitive Interface
Large, Easy-to-Read LCD Screen, w/ Night Mode
Flip-Flop Channel Recall
Battery Status Screen
121.5MHz emergency key
Weather channels
Priority watch
General
NAV and COM
A25N
NAV and COM channels
Frequency Coverage
Tx
Rx
RX (Weather)
A25N
118.000-136.975 MHz
118.000-136.975 MHz
161.650-163.275 MHz
Channel spacing
25/8.33 kHz
Type of emission
6K00A3E, 5K60A3E, 16K0G3E (Weather)
Power supply requirement
7.2 V DC (BP-288), 11.0 V DC (External DC Jack)
Current drain (approximately)
Tx High
Rx Max. audio/Stand-by

Less than 1.8 A
Less than 500 mA/90 mA typ.
Antenna impedance
50 Ω
Operating Temperature Range
–10°C to +60°C; 14°F to 140°F
Dimensions (W×H×D)
(projections not included)
58.9 × 148.4 × 31.8 mm; 2.3 × 5.8 × 1.3 in
Weight (approximately)
340 g; 12.0 oz (with BP-288)
Transmitter
Output power (at 7.2 V DC)
6.0/1.8 W typical (PEP/carrier)
Audio harmonic distortion
Less than 10% (at 60% modulation)
Hum and noise ratio
More than 35 dB
Spurious emissions
More than 46 dB
(Exclude fc±62.5 kHz for AM mode)
(Exclude fc±20.825 kHz for AM-N mode)
Frequency stability
±0.4 kHz
Receiver
Intermediate frequencies
1st
2nd

46.35 MHz
450 kHz
Sensitivity (typ)
NAV/COM (6 dB S/N)
WX (12 dB SINAD)

Less than 0 dBμ
Less than –8 dBμ
Squelch sensitivity (at threshold)
Less than 0 dBμ (AM), Less than –5 dBμ (FM)
Audio output power
More than 350 mW typ. (8 Ω load/60% Mod. at 10% distortion)
Hum and noise
More than 35 dB (at 30% modulation)
Spurious response
More than 60 dB (AM), More than 30 dB (FM)
Audio output power
More than 350 mW typ. (8 Ω load/60% Mod. at 10% distortion)
Ext. speaker connector
3-conductor 3.5 (d) mm (1⁄8

ʺ

)/8 Ω